SvaraSangam Summer Camp 2022 will be totally in person and will be conducted in 2 parts:
July 11 to July 22 and Aug 15 through Aug 26.
Click here to see details.
SvaraSangam Sangeet Chaturthi 2022: After more than 2 years, we are going to have the school-wide musical meet for the whole day on Sat, June 25th at Bharat Sevashram Sangh auditorium. The organizers are actively working with the temple staff to ensure efficient Wi-Fi so even the remote students and their families will get to participate via Zoom and enjoy everyone's singing and harmonium vaadan. This time we have a bunch of youngsters who will provide Tabla saath. School parents who have not sent their RSVPs, please contact the main coordinator Pallavi Kadlaskar.  Please spread the word to outside music lovers who can attend the program for $10.
BMM convention Aug. 11 to 14
: Our musical program at this highly visible event will be a stunner for music lovers from across the USA, Canada, and India. Hope to see many of you there. For info and tickets go to 
www.bmm2022.org
.
Welcome to Svara Sangam, a school of North Indian classical music, a.k.a. Hindustani classical music, founded by Shri. Hemant Kulkarni. The school has been involved in promoting this music in the U.S. by providing instructions in vocal music and harmonium to a variety of age groups in the New Jersey / New York area. It is very gratifying to see excellent progress shown by the students most of whom were born and raised in the U.S. Some of them have performed at public events and on Community TV and Radio channels.
We offer group lessons in vocal and instrumental music. Online Classes may be available for remote locations. We also offer public concerts for interested audiences.
Svara Sangam School has received the affiliation and Examination Center status from the well-known Indian Music Institution, Akhil Bharatiya Gandharva Mahavidyalay (ABGMV) Mandal. Qualified candidates can take Certificate exams up to Madhyama II at the school facility. Several students have passed these Exams with distinction so far.
About the teacher - Shri. Hemant Kulkarni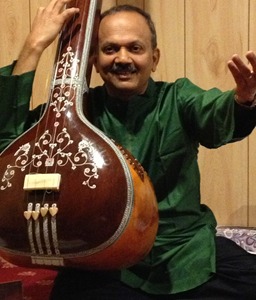 Shri. Hemant Kulkarni is trained in the Gwalior and Agra Gharana gayaki. He has been teaching vocal music and harmonium in the NJ area. He has been frequently invited to sing at the Marathi Vishwa Soor Bahar event in NJ. He and his students have a variety of classical and semi-classical music programs in the U.S. His students have won several awards at contests featuring Hindustani Classical and Semi-classical vocal & instrumental music in NJ, Baltimore, Atlanta etc.
Upcoming Events
SvaraYogita 2021
Svara Yogita is an online Hindustani Classical / Semiclassical music competition organized by Svara Sangam. The competition is open for participation by residents of North America and Canada interested in Hindustani Classical music – vocal and instrumental.
Testimonials I have had the pleasure of frequently providing Tabla saath to Hemant and his students for over a decade. Accompanying them is particularly joyful for me because of their extraordinary technical & artistic abilities, the diversity of taals they perform in, and the meticulous attention they pay to Laya and Taal. I wish him great luck.

Dr. Pratik Devasthale, NJ, USA It was my pleasure listening to all your students. They all were thoroughly prepared. This is the first time in last so many years in North America that I could ask all the questions. Otherwise there are always so many reasons by the teachers supporting their student's unprepared presentations. I enjoyed the exams. I would definitely like to come again in future.

Mrs. Rupali Vatve, Toronto, Canada This is to express my sincere appreciation of your efforts to train youngsters in the art of Hindustani Classical Music and thereby promote it in U.S.A. As far as my knowledge goes, none other in New Jersey has been able to achieve this to the extend you have done it. Kudos to you indeed. Though I have dedicated myself to this art right from the age of 15.

Mr. Sujan Rane, Cranbury, New Jersey, USA
Latest News
Success at Rungmunch worldwide contest!
Rishabh Ramakrishnan won the 1st prize in the Rungmunch junior category for Hindustani classical music.
The competition video links are on the Rungmuch Facebook page in case you missed it.
https://www.facebook.com/Rungmunch.org
Kudos to the finalists Gauri Niwargi (Adult Category – Hindustani Classical), Medha Anantuni (Junior Category – Hindustani Semi-Classical), Ishaan Tangirala (Antara Category – Bollywood).
SvaraYogita 2020 Online Hindustani Classical / Semi-Classical Competition results
SAMMAAN 2020 online contest – global talent search organized by Shankar Mahadevan Academy
Classical Vocal Winner – Ishaan Tangirala
Semi Classical Winner – Medha Anantuni
Svarasangam Facebook live concert
Organized by Indradhanush Foundation and Raykar Academy of Violin.
View the Facebook video here
Manas wins prize in Passion 2020 Global competition –  13 year old Manas Bhave won the 2nd prize in the Passion contest organized by Suranjan group of Thane, India and judged by some of the top artists in India
His performance in final round.
MV Swaradhara 2020 Music Competition Results–  Big Svara Sangam win in Marathi Vishwa Swaradhara 2020. 
SvaraYogita 2019 Music Competition Results–  Svara Sangam congratulates all participants and winners in the inaugural music competition in NJ (Nov 30th 2019)
AIMFA 2019 Music Competition Results–  Svara Sangam congratulates below winners in the AIMFA 2019 Music competition conducted in Baltimore (Nov 30th and Dec 1st 2019)
FILM SONG 1
1ST Ishaanbhi Mishra
2ND Prisha Inamdaar
FILM SONG 3
1ST Vijay Manchiraju
GHAZAL 2
1ST Vijay Manchiraju
NORTH INDIAN CLASSICAL VOCAL 2
1ST Shreya Pandey
PJIM Annual Competition 2019  –  Big Svara Sangam in PJIM Annual Competition 2019.
Arjun and Gauri won 1st prize in Classical – Pallavit Age Category. Manasi won the third prize in the same category
Manasi tied for first place in Bhajan category.
Juilee tied with Adit for the 1st prize in classical – Kali Mukulit Category.  Niranjan won the third prize for the same category.
Meri Awaz Suno (MAS) – Reportedly many of Svara Sangam students made it to the final round on May 12th 2019 and one of our star students Nandan Shastry is the big winner of the contest in adult category as well as he nagged 2 other prizes – ITV Gold award and MAS people's choice award ! Manasi Pujari & Niranjan Pujari won 2nd & 3rd prizes respectively in kids category! Congratulations to all winners and all the finalists from our school !
Rising Stars : Pandit Jasraj Institute (PJIM) has selected Jay and Gauri to sing at this event on Sat, June 15th at the Gentry clubhouse. Arjun Ramakrishnan & Anish Dharam from Svara Sangam will be accompanying Jay & Gauri on harmonium. Wishing all the best to all four of them.
Big Svara Sangam win at AIMFA's 35th Indian Music Competition 2018 in Columbia, MD! Winners List and Videos are in the Events Page.
Look at Winners!
Svara Sangam students win at Pt. Jasraj Institute of Music Contest AKA PJIM Contest in NJ.
Look at Winners!
Big Svara Sangam win at AIMFA's Indian Music Competition 2016 in Columbia, MD! Winners List and Videos are in the Events Page.
Look at Winners!
Srikar Ayyalasomayajula played harmonium and Nandan Shastry sang at the Madhyam Nava-gandharva festival !
Srikar Ayyalasomayajula and Ajita Nair played a harmonium solo and sang respectively at Raag-Rang's Kal Ke Kalakaar program!
Check out video clips!
Contact Us :
Svara Sangam
Dayton, New Jersey, USA
Phone : 732-438-1011
Email : info@sangeet.us
Feedback :
Like Us On :